Robotic Assisted Surgery- da Vinci
Patients who must undergo major surgery, but are looking for it to be as minimally invasive as possible, have that option with the da Vinci robotic-assisted surgery system. This surgery option uses advanced technology, giving Dr. Sherry Thomas complete control over each medical action at all times–offering the patient a surgery with small incision(s) and minimal recovery time.
With robotic-assisted surgery, Dr. Thomas can work with the small incisions of laparoscopic surgery for certain gynecological conditions, meanwhile doing precise movements—previously only possible with open surgery. Some conditions that can be helped with robotics include; certain types of hysterectomy, the removal of benign tumors, and surgery on certain gynecological cancers, pelvic prolapse, the urethra sling and certain endometriosis.
Robotic assistance is so technologically advanced it allows tiny, and delicate movements not possible prior during surgery. The ability to perform small movements decreases the need for larger incisions — like the kind in open surgery — which means procedures are now considered minimally-invasive. Thanks to this advancement, robotic assisted surgery is far less scarring, has less risk of postoperative infection, and there is less recovery time.
Although Dr. Thomas uses robotic surgery to assist her, she is always in complete control. Dr. Thomas will make a small incision at the surgical site so that a small camera on the end of a long tube can be inserted. That camera allows Dr. Thomas to see inside your body as she controls and manipulates the robotic "arms" that will do the surgery itself. The arms are also the surgical tools, controlled by the surgeon; she manipulates the arms to work the way she needs them to via a computer, allowing her gestures and movements to be copied perfectly and precisely. In so many words, you are still "literally" in her hands, without having open surgery.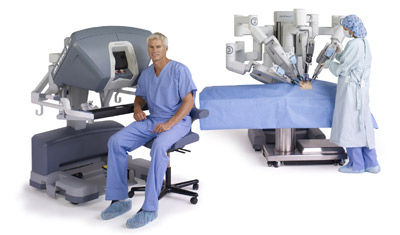 What is da Vinci surgery?
One of the more unique aspects with this surgery is the fact that instead of standing over a patient, Dr. Thomas is comfortably seated. Beside her is a 3D camera on a patient cart, which takes crystal clear images of the body's interior. Also on the cart are as many as three specially-created hi-tech surgical instruments, each one focused on a specific job like suturing, clamping or manipulating tissue.
The term robotic means there are also four interactive robotic arms on the cart as well. In the process, Dr. Sherry sits at a control panel and manipulates the arms which perfectly mimic her own movements. Everything is done in real time- from seeing to the incision. That allows the arms to make precise incisions that are roughly the size of a dime. Since its creation, the da Vinci system has been used in about 1.5 million different procedures around the world.
Much More Rapid Recovery
One major benefit with the surgery is that the healing time involved is much shorter, which in turn means that any expensive hospital stay can also be reduced. That's because the incision(s) made is small, which results in much less blood loss and requires less medication after surgery. In addition, the size of scars are reduced which is admittedly a cosmetic consideration, but one that many people can be sensitive about.
Making the First Move
Those individuals who are reluctant to undergo or a have fear of what may transpire during major surgery can have their concerns alleviated by undergoing the da Vinci surgery. That's because of the ease with which it's performed and the minimal lasting effects from it. We are here to answer any questions you may have, and help determine if you are a candidate for a da Vinci procedure.
Da Vinci S Robotic Assisted Surgery System allows our patients to experience the benefits of minimally invasive surgery, and in gynecology, it has been "FDA-approved since 2005" (keep this statement as a plug in to another site). Additional benefits are, less pain, less loss of blood, far less need for blood transfusions, shorter hospital stay, less time needed for recovery, and faster healing.
To learn more about robotic assisted surgery and how it may be able to help you, call our office today by contacting Dr. Sherry Thomas' office to schedule a consultation.