Nanotech Skin Care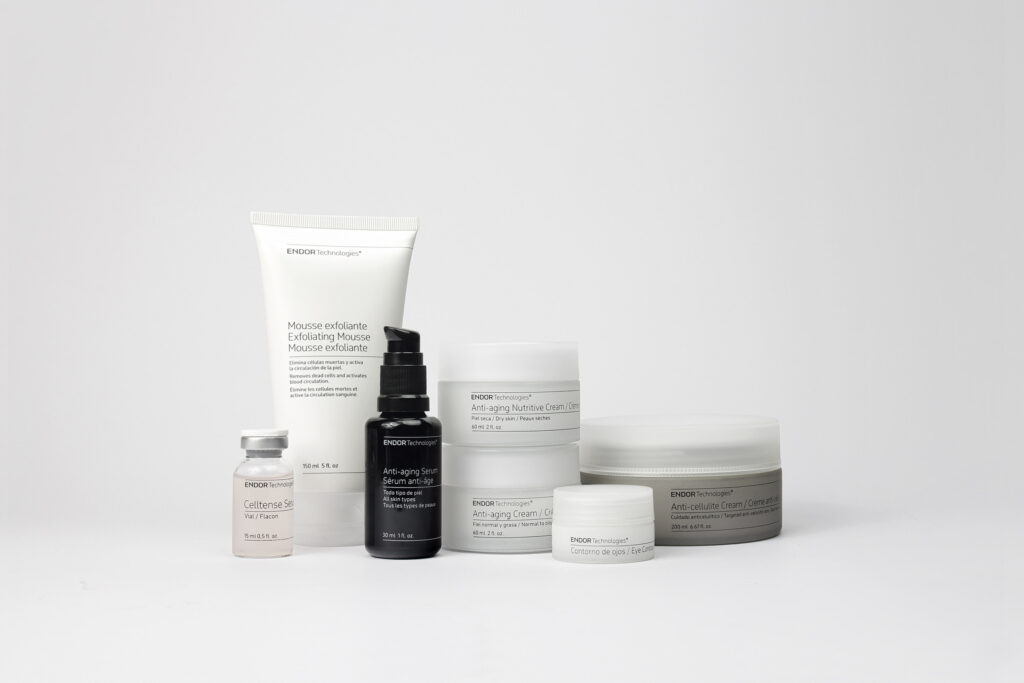 Endor Technologies Body & Facial collections are made with patented hyaluronic acid-coated gold nanoparticles, proven to visibly improve the effects of aging.
The Body Collection
In clinical studies, Endor's body collection, based on its patented hyaluronic acid-coated gold nanoparticles, has been shown to visibly improve cellulite, boost the skin's firmness and reduce the thighs, abdomen and arms.
This collection is comprised of the anti-cellulite cream, the reducing-reaffirming cream and the cream for neck and chest. All the products contain hyaluronic acid-coated gold nanoparticles, which are capable of reaffirming the skin with outstanding visible effects. Each product comes with specific advanced active ingredients for each need and body zone.
A clinical study proved that hyaluronic acid with gold nanoparticles reaffirm the skin by increasing the endogenous production of collagen, elastin and hyaluronic acid. This effect is the basis of how the products in the collection work, as proven via biopsies.
Products:
Anti-Cellulite Cream
Reducing & Slimming Cream
Neck & Decollete Cream
The Facial Collection
Patented formulations with gold thioethylamino hyaluronic acid, a new ingredient, developed with spherical gold nanoparticles conjugated to hundreds of low molecular weight hyaluronic acid oligomers. This innovative formulation is specifically designed to enhance the skin's natural ability to produce hyaluronic acid, collagen and elastin.
The serum and cream help to enhance the skin's natural ability to produce hyaluronic acid, collagen and elastin, which are the proteins giving structure to the skin. This will have a direct and important impact on skin health conditions.
Clinical Study Summary
A clinical study performed with 23 volunteers for 28 days (applied twice daily) resulted in the following (average): 25 % Wrinkle Reduction, 27% Roughness Reduction, 15% Moisturization Increase
Products:
Anti-Aging Cream
Anti-Aging Nutritive Cream
Anti-Aging Eye Contour
Anti-Aging Serum
Radiofrequency & Nanotechnology
Photosensitive nanoparticle technology to be combined with cosmetic radiofrequency treatments to accelerate and multiply the effects of radiation. The collection of products for radiofrequency is comprised of two serums: Celltense for body treatments and Hyalgen for facial treatments (for professional use only). If they are applied right before radiofrequency, they enhance effects of the radiation. It has been clinically proven that the hyaluronic acid-coated nanoparticles have a powerful synergy with radiofrequency.
It causes no lesions or side effects, it is an effective treatment for cellulite that is neither invasive nor painful.
Products: (For Professional Use Only)
Celltense Serum
Hylagen Serum
All products are free of parabens, sensitive preservatives, artificial colouring, emulsifiers and aggressive surfactants, pesticides, mutagenic or reprotoxic substances and skin irritating alcohols, sulphides, formaldehydes, nitrosamines, butylated hydroxytuluene, methylisothiazolinone and others. None of their products are animal tested.
To purchase any Endor Technologies products